Regular price
Sale price
$29.99 USD
Unit price
per
Sale
Sold out
Know About Our Product
NUTRABIO MULTISPORT FOR MEN: COMPREHENSIVE, CLINICALLY DOSED MULTIVITAMIN - MINERAL MATRIX
In a perfect world, athletes would consume a well-balanced diet containing whole grains, fruits, and vegetables, thereby aiding in the assurance of the proper intake of all micronutrients. Unfortunately, in the real world, athletes do not have perfect diets. In today's society, the lack of time and the convenience of less-than-ideal food sources tempt people to ingest a diet lacking many of the essential vitamins and minerals needed to maintain a healthy lifestyle and fuel performance. If an athlete's diet is less than favorable, it is recommended that they take a high-quality multivitamin as an easy and cost-effective way to ensure the proper intake of all the essential micronutrients. This is why NutraBio, the most trusted name in sports nutrition, developed MultiSport.
MultiSport is an advanced, therapeutically dosed vitamin, mineral, and antioxidant formula designed specifically to meet the nutritional demands of athletes in training and to fill micronutrient gaps left by an inadequate diet. MultiSport goes far beyond the minimum Recommended Daily Intake (RDI) to support optimal nutritional balance and peak physical and mental performance for hardcore athletes and fitness enthusiasts alike. Vitamins and minerals play critical roles in hundreds of bodily functions. MultiSport acts as a foundation for those nutritional needs and ensures that all of the vital micronutrients and co-factors are available at the crucial times your body needs to perform optimally.
Unlike most multivitamins that are built on fairy dusted combinations of random micronutrients hidden in proprietary blends, MultiSport combines clinically dosed, best-in-class ingredients precisely formulated to deliver exactly what you need to support health, performance, and overall well-being. With NutraBio, transparency and innovation is the name of the game and we do it better than anyone does. This transparency and innovation is reflected in the most superior multivitamin on the market today, MultiSport. It has everything you need in one comprehensive, open-label, clinically dosed formula and nothing that you don't.
MULTISPORT FOR MEN FEATURES
33 vitamins, minerals, and micronutrients specifically formulated to support the demands of athletic men
Full spectrum Vitamin B profile
Supports peak athletic performance
Supports metabolism and increases energy all day
Fills dietary nutrient gaps to support optimum health
Formulated with Albion certified chelated minerals
Gentle on the stomach
Powerful antioxidant formulation
MultiSport has been certified as a Albion Gold Medallion supplement
WHO CAN BENEFIT FROM TAKING MULTISPORT?
Anyone who wants more out of their current multivitamin
Anyone who trains hard week in, week out
Anyone who is on a calorie-restricted diet
Anyone who wants to increase the body's ability to recover
Anyone who wants to build more lean muscle or lose body fat
Anyone who wants to bolster their immune system
Anyone who wants to support overall health
THE RELATIONSHIP BETWEEN MACRO- AND MICRONUTRIENTS AND EFFECTS ON ATHLETES
The human diet consists of both macro- and micronutrients. Macronutrients include carbohydrates, fats, and proteins, whereas micronutrients consist of vitamins and minerals. As their name implies, macronutrients comprise most of the required dietary intake, whereas micronutrients are essential in much lower quantities. With the deficiency of micronutrients, athletic performance in addition to normal physiological function will suffer. However, the very nature of being a micronutrient suggests that excess intake in well-fed athletes will not likely alter performance without an activity associated increased need. For example, many vitamins and minerals are important in the catabolism of the macronutrients for energy production. Furthermore, many of the micronutrients are involved in endogenous antioxidant defense mechanisms. It has been hypothesized that athletes have an increased requirement for vitamins and minerals because of the increased energy expenditure and excess muscle damage that occurs during training or competition. NutraBio MultiSport can help athletes meet this increased need demand.
Share
View full details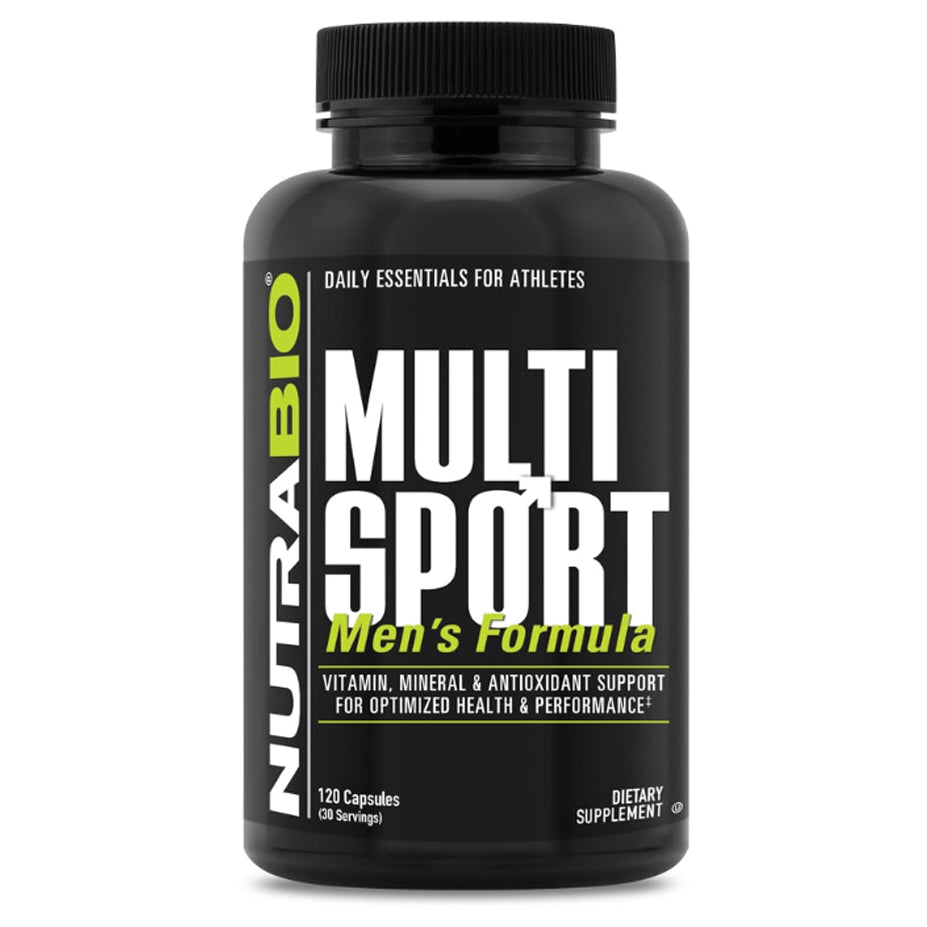 I love when I open the canister and the scoop is in top! The nutrition value is so amazing, I mix it with my coffee every morning to get my protein levels up
Product is made with very clean ingredients. The protein powder mixes very well in any liquid.